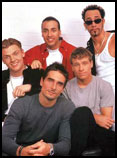 Backstreet Boys were, in many ways, a contradictory band. Comprised entirely of white, middle-class Americans, the group sang a hybrid of new jack balladry, hip-hop R&B and dance-club pop that originally found its greatest success in Canada and Europe, with their 1996 debut album charting in the Top 10 in nearly every country on the continent; ironically, success in their native land did not follow until nearly two years later.
The core of the Backstreet Boys is cousins Kevin Richardson and Brian Littrell, who both hail from Lexington, Kentucky. The two began singing while they were children, performing in local church choirs, as well as festivals, where they sang doo-wop and new jack R&B in the style of Boyz II Men. Two of the other remaining members, Howie Dorough and A.J. McLean, were natives of Orlando, Florida who met each other -- as well as transplanted New Yorker and fifth Backstreeter Nick Carter -- through auditions for local commericials, theater and television. At one audition, the three discovered that they shared an affection for classic soul and could harmonize together. In no time, they were singing as a trio. Shortly after the trio had formed, Richardson moved to Orlando, where he became a tour guide at Disney World; at night, he concentrated on becoming a professional musician. Eventually, he met Dorough, Carter and McLean through a co-worker, and the four decided to form a group, naming themselves after an Orlando fleamarket; Littrell was invited to join to make the band into a quintet.
Through a friend, record producer Louis J. Pearlman, the band secured management from Donna and Johnny Wright, who put the group out on the road and had several A&R reps come see the Boys perform live. Eventually, Jive Records became interested in the band, signing the group in 1994. Jive/Zomba set the Backstreet Boys up with producers Veit Renn and Tim Allen and they labored over the album with the band for several months. The group's eponymous album was released throughout Europe and North America in late 1995. The record was a success in Europe, spending several weeks in the Top 10 in most continental countries where it charted. In the UK, the Backstreet Boys were named Best Newcomers of 1995 at the Smash Hits Awards. Despite their European success, the group was only able to crack the Canadian market in North America, with their European hit single, "We've Got It Goin' On," stalling in the lower reaches of the US charts. However, with the release of 1997's Backstreet's Back, the Boys finally began their rise to U.S. success, scoring hits with the singles "Quit Playin' Games (With My Heart)" and "As Long as You Love Me." The follow-up to Backstreet's Back, Millennium, was released in 1999.

Search
Artists
Styles
Biographies
Home

Order
My Account
Shipping Info

Live Radio
Free E-Mail
MP3
DVD
Movies

Hot Picks
TLC
Moby
N'Sync
Dr. Dre
Eiffel 65
Faith Hill
Kid Rock
Santana
D'Angelo
The Cure
No Doubt
Macy Gray
Dixie Chicks
Marc Anthony
Savage Garden
Christina Aguilera