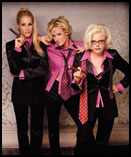 The Dixie Chicks rose from relative obscurity in 1998 to become one of the most popular acts in contemporary country music. Their origins date back nearly a decade earlier to 1989, when fiddler Martie Seidel and her banjo-playing sister Emily Erwin formed the group in Dallas with bassist Laura Lynch and guitarist Robin Lynn Macy; after getting their start on local street corners, the quartet soon graduated to clubs, receiving an enormous boost when Seidel earned third place honors at the National Fiddle Championships. Originally, the Dixie Chicks (their name inspired by the Little Feat song "Dixie Chickens") promoted a classic cowgirl image, complete with a sound inspired by traditional country, folk and bluegrass; they even titled their 1990 indie-label debut Thank Heavens for Dale Evans.
With 1992's Little Ol' Cowgirl, the Chicks' began slowly moving towards a more contemporary sound, a transformation which in part resulted in the exit of Macy; with Lynch assuming lead vocal duties, the remaining trio resurfaced in 1993 with Shouldn't a Told You That. Shortly after the Chicks signed with Sony's newly-revived Monument imprint in 1995, Lynch left the group as well -- according to a December 10, 1998 feature in the Dallas Observer, both she and Macy were likely victims of Seidel and Erwin's desire to foster a more youthful image; the magazine goes on to call the group "the country version of Menudo, hiring and firing based on age." Soon named as Lynch's replacement was then-21-year-old lead vocalist Natalie Maines, the daughter of steel-guitar legend Lloyd Maines.
The line-up switch brought with it a new contemporary wardrobe and an equally modernized country sound; still, few predicted the enormous success of the Dixie Chicks' 1998 major label debut Wide Open Spaces. After the album's advance first single "I Can Love You Better" became the group's first Top Ten hit, both "There's Your Trouble" and the title track went on to top the country charts. Within a year of Wide Open Spaces' release, the record had gone quadruple-platinum, and the Dixie Chicks had become superstars -- not only did they take home Best Vocal Group honors and the Horizon Award from the Country Music Association, but they were also named Favorite New Country Artist at the American Music Awards. Wide Open Spaces additionally earned a Grammy for Best Country Album.

Search
Artists
Styles
Biographies
Home

Order
My Account
Shipping Info

Live Radio
Free E-Mail
MP3
DVD
Movies

Hot Picks
TLC
Moby
N'Sync
Dr. Dre
Eiffel 65
Faith Hill
Kid Rock
Santana
D'Angelo
The Cure
No Doubt
Macy Gray
Dixie Chicks
Marc Anthony
Savage Garden
Christina Aguilera