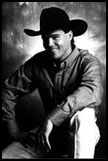 With his first two singles reaching number one upon their release, Clay Walker immediately established himself as a commercial success. Unlike most of his new country contemporaries of the mid-'90s, he was able to sustain that success over a couple of years, racking up no less than five number one singles in the first three years of his career.
Walker (b. August 19, 1969) was born and raised on a farm in Beaumont, Texas, the hometown of George Jones. Clay fell in love with country music at an early age, when his father gave him a guitar when he was only nine years old. After he graduated from high school, Clay pursued a musical career full-time, playing concerts across the South, the Midwest and Canada. For over three years, he toured and went to school, taking courses about the music business. During this time, he acted as his own manager. Eventually, he became the house singer at the Neon Armadillo bar in Beaumont. While performing at the club, producer James Stroud heard Walker and offered to work with the singer. Stroud help Clay secure a contract with Giant Records and the pair began working on the vocalist's debut album.
"What's It To You" became a number one hit upon its release in August of 1993, with "Live Until I Die" following it into the pole position later that same year. Both singles were featured on his debut album, Clay Walker, which was released in the fall of 1993. "Where Do I Fit in the Picture," the third single from the album, became a number 11 hit in early 1994. "White Palace" was a flop, failing to crack the Top 40, but "Dreaming With My Eyes Open" became his third number one hit in the summer of 1994, helping make his debut record a platinum album. If I Could Make A Living was not quite as successful as his debut, yet it still yielded the number one title track. Hypnotize the Moon, Walker's third album, appeared in the fall of 1995, preceded by the number two single "Who Needs You Baby." He followed with Self Portrait in 1996 and Rumour Has It in 1997. A Greatest Hits collection appeared in 1998 and a new album, Live, Laugh, Love was released in 1999.

Search
Artists
Styles
Biographies
Home

Order
My Account
Shipping Info

Live Radio
Free E-Mail
MP3
DVD
Movies

Hot Picks
TLC
Moby
N'Sync
Dr. Dre
Eiffel 65
Faith Hill
Kid Rock
Santana
D'Angelo
The Cure
No Doubt
Macy Gray
Dixie Chicks
Marc Anthony
Savage Garden
Christina Aguilera