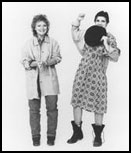 While they came into prominence as part of the late-'80s folky-singer/songwriter revival, the Indigo Girls have had staying power where other artists from the same era quickly faded. Their two-women-with-guitars formula may not seem very revolutionary on paper, but the combination of two distinct personalities and songwriting styles provides a tension and an interesting balance -- Emily Saliers, hailing from the more traditional Joni Mitchell school, has the gentler sound, is more complex musically, and often leans toward the abstract and spiritual while Amy Ray draws heavily from the singer/songwriter aspects of punk rock, citing influences such as the Jam, the Pretenders, and Hüsker Dü for her more abrasive and direct approach. In more than a decade of recording, they have managed respectable mainstream success as well as keeping their rabid core following.
Amy Ray and Emily Saliers first took the name Indigo Girls while living in Atlanta in 1985, although they had been performing together since the early '80s, at times under the name the B-Band. In 1986, they recorded an independent self-titled EP and followed in 1987 with the full-length Strange Fire -- only 7, 000 copies were pressed and very little interest was generated. Things changed quickly in 1988 when, in the wake of the success of Suzanne Vega, Tracy Chapman, and 10,000 Maniacs, they seemed to fit nicely into "the next big thing." Epic Records was quick to sign them.
Indigo Girls, released in 1989, was an excellent national debut. Featuring a guest vocal by R.E.M.'s Michael Stipe ("Kid Fears") gave them initial college radio credibility and the single "Closer to Fine" was a hit -- the album eventually broke the Top 30 and earned a Grammy for Best Folk Recording that year. By the end of 1991, it achieved platinum sales. Strange Fire was reissued in the fall with a cover of "Get Together," replacing one of the original tracks.
The follow-up, 1990's Nomads Indians Saints, didn't fare quite as well. It was nominated for a Grammy and eventually reached gold status but the material wasn't nearly as strong. A live EP, Back on the Bus, Y'All, was released in 1991 while they regrouped. It was also certified gold and was nominated for a Grammy.
In spring of 1992, they made a comeback with Rites of Passage, which debuted at number 22 and went platinum by year's end. The album showed an increasing diversity and some of their strongest songs to date. Almost exactly two years later, Swamp Ophelia was released and entered the charts at number nine; it went gold by the end of the year. A double-live album, 1200 Curfews, was released in 1995 and the much awaited follow-up to Swamp Ophelia, Shaming of the Sun, followed in 1997.
In addition to her work as part of the Indigo Girls, Amy Ray also set up and presides over Daemon Records, a nonprofit label to nurture new talent with an emphasis on like-minded singer/songwriters. The label's releases include albums by Kristen Hall, Ellen James Society, James Hall, a remake of Jesus Christ Superstar (which includes performances by both Ray and Saliers), and a gun control benefit.

Search
Artists
Styles
Biographies
Home

Order
My Account
Shipping Info

Live Radio
Free E-Mail
MP3
DVD
Movies

Hot Picks
TLC
Moby
N'Sync
Dr. Dre
Eiffel 65
Faith Hill
Kid Rock
Santana
D'Angelo
The Cure
No Doubt
Macy Gray
Dixie Chicks
Marc Anthony
Savage Garden
Christina Aguilera