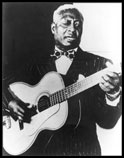 Leadbelly was the first blues musician to achieve fame among white audiences. For this reason alone, and more for the sheer novelty of his career as an ex-convict-turned-singer than for any recognition of his abilities, he was the first bluesman to be treated as a major media figure in the mainstream press.
Huddie Ledbetter was born on January 20, 1888, not far from the Texas border. He remained in school until he was 12 or 13 and could read and write, and was a precocious child, serious and ambitious beyond his years. Ledbetter was surrounded by a multitude of influences growing out of the post-slavery/post-Reconstruction era of the late 19th century, including blues, spirituals, and minstrel songs. By the time he was 14, he was known for his ability with the guitar and his way with a song. He played before audiences on most Saturday nights, at parties and square dances in the area around Mooringsport, Louisiana, but before he was far into his teens, he was attracted to the red-light district in Shreveport. Apart from the women, however, the district's main attraction to the teenager was its music. He was married by the first decade of the 20th century, but the relationship and the marriage didn't last. The music, however, did, with an important new wrinkle -- Ledbetter switched from the six-string to the 12-string guitar, a pivotal decision in the development of his own career. He was already performing songs of his own and adapting others during the 1890s, and his abilities in this area grew with his experience. He first picked up a song known as "Irene" sometime in the first decade of the 20th century and as "Goodnight, Irene" it became one of Leadbelly's best-known songs.
Sometime around 1915 he made the acquaintance of Blind Lemon Jefferson, from whom he learned slide guitar. Despite some months of working together, Ledbetter was left behind by Jefferson, a result of his inability to stay clear of the law. Finally, in 1917, he was arrested for shooting a man and sentenced by the state of Texas to 30 years in prison. On the Shaw State Prison Farm, Leadbelly's talents served him just as well as they had outside. His singing and guitar playing made him one of the more popular prisoners. He was ultimately released in 1925 after he played for the visiting Texas governor, Pat Neff, requesting a pardon. The pardon was signed by Neff on virtually his last day in office.
Leadbelly, as he was now known professionally, tried working regular jobs for the remainder of the 1920s, but was never able to stay far from the rambling life that had led him into trouble back in the previous decade. Finally, in 1930, he was arrested and convicted in Louisiana of assault with intent to commit murder, and sentenced to 30 years in the Louisiana State Penitentiary at Angola, a prison farm with a reputation as bad as, or worse, than the Texas prison from which he'd been released. And it was there, in 1933, that he first met John Lomax, an ambitious researcher for the Library of Congress, who was traveling through the South with his son Alan, collecting blues and any other authentic American music that they could find. Leadbelly's reputation within the prison was well-known, and it was inevitable that he would meet the Lomaxes. They found in Leadbelly a talent and a resource beyond anything they could have hoped for -- the man was not only a gifted player who exuded a musical charisma that transcended the prison setting, but he was a veritable human jukebox, in the range of songs that he knew. Leadbelly dazzled the Lomaxes with his singing, playing, songwriting, and Lomax recognized in his new discovery a talent that was very different from the makers of the commercial "race" records of the period. Leadbelly's style and repertory were unaffected by the currents running through commercial blues and country music, but a talent that was worth trying to develop commercially, into a valid and successful brand of Black American folk music.
Leadbelly was released in 1934 with help from John Lomax, and began an extended relationship with him and his son, serving as driver and valet while making recordings and preparing plans for concerts. It was Lomax's intention to make Leadbelly and -- as his manager and "discoverer" -- himself into stars. On the positive side, this resulted in Lomax trying to get Leadbelly to record virtually every song he knew, an impossible task given the sheer range of music to which he'd been exposed since the 1890s, but one that resulted in dozens upon dozens of sides for the Library of Congress, cut on Lomax's relatively crude "portable" recording unit, and later many attempts at commercial recording as well. On the negative side, however, it resulted in a terrible exploitation of Leadbelly, who appeared in photos and on stage in striped prison uniforms, and whose violent past was emphasized along with his musical abilities. The result was a flurry of publicity that brought Leadbelly some exposure in the white community, but also made him give one the impression of a captured savage. It would have been demeaning for any man, but was especially so for Leadbelly, and ultimately not terribly profitable for Lomax. The copyrights that he signed his name to as Leadbelly's songwriting "collaborator" ultimately proved to be worth a small fortune, but at the time, he quickly discovered that sensationalistic press didn't necessarily translate into large paying audiences. Moreover, Leadbelly quickly grew beyond Lomax's ability to control him, and later rebelled at their relationship. And Lomax found out as early as 1935, following Leadbelly's first commercial recording sessions for the American Record Company that Leadbelly's brand of blues was of virtually no interest to Black audiences, who had already moved to more moden sounds. Ironically, the ARC sides contain some of Leadbelly's best music; brought into a real recording studio for the first time, he took to the new environment like a natural, his voice booming larger than life and his guitar captured more crisply than ever before.
Leadbelly moved to New York City, and subsequently split with Lomax, although they remained close. It was in New York that Leadbelly came to find some success, reaching a small, but dedicated, following of white listeners, mostly consisting of folk song enthusiasts and members of the city's uniquely Bohemian intelligentsia. Leadbelly did some sessions for Musicraft, and also for Bluebird label, but his major activities during the early '40s were with Moe Asch, the founder of Folkways Records.
Leadbelly's music at any phase of his career was startling. but his sound also evolved, a process made all the more vivid by the many different versions of his songs that he recorded across his career. By the early '40s, he even began to develop a consciousness that prefigured the topical songwriters of the early '60s. This was all pretty strong stuff to do in the middle of World War II. And, yet, Leadbelly also did whole programs and concerts devoted to songs intended specifically to entertain children and those recordings were among the most successful of the huge body of his work that Moe Asch recorded. Leadbelly never gave up the hope that he might become a star in the music world, and recognized enough that was special in his life story that he even tried to interest Hollywood in signing him up. That didn't work, although a visit to California did result in a short-lived contract with Capitol Records in 1944, yielding a dozen sides.
Soon after this period, however, he began developing the health problems that would ultimately kill him. Leadbelly continued working into 1949, but it was too early for the folk revival boom that would have embraced him. He played his last concert at the University of Texas on June 15th of that year. The recording of that concert is very poignant -- as he leaves the stage, he promises to come back, vowing to get well now that he has a new doctor. Instead, he was hospitalized a month later, and died in New York on December 6, 1949. Two years later, his one-time protégés the Weavers had a million-selling hit with their recording of "Goodnight Irene," starting the whole folk-song revival -- and six years later, England's Lonnie Donegan had a hit with a version of "Rock Island Line," a song that Leadbelly adapted and brought to modern audiences.
Leadbelly's place in blues history is a peculiar one; unassailable as a source for much of the country-blues repertory as it has been passed down to us, and a major contributor to the folk music revival of the 1950s, but virtually non-existent in terms of his effect upon the commercial blues market in his own lifetime or since.

Search
Artists
Styles
Biographies
Home

Order
My Account
Shipping Info

Live Radio
Free E-Mail
MP3
DVD
Movies

Hot Picks
TLC
Moby
N'Sync
Dr. Dre
Eiffel 65
Faith Hill
Kid Rock
Santana
D'Angelo
The Cure
No Doubt
Macy Gray
Dixie Chicks
Marc Anthony
Savage Garden
Christina Aguilera