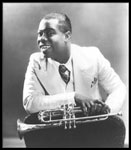 Louis Armstrong was the most important and influential musician in jazz history. Although he is often thought of by the general public as a lovable, clowning personality, a gravel-voiced singer who played simple but dramatic trumpet in a New Orleans-styled Dixieland setting, Armstrong was much much more.
One of the first soloists on record (although he was preceded by Sidney Bechet), Louis was more responsible than anyone else for jazz changing from an ensemble-oriented folk music into an art form that emphasized inventive solo improvisations. His relaxed phrasing was a major change from the staccato style of the early '20s (helping set the stage for the swing era) and Armstrong demonstrated that it was possible to have both impressive technique and a strong feeling for the blues. One of jazz's first true virtuosos, his influence over his contemporaries was so powerful that nearly every trumpeter to record between 1927 and 1940 sounded to an extent like one of his followers!
Louis Armstrong's unique singing voice was imitated by a countless number of listeners through the years, he popularized scat singing (using nonsense syllables rhythmically rather than words) and his phrasing (carried over from his horn playing) affected virtually every singer to emerge after 1930, including Bing Crosby, Billie Holiday and Frank Sinatra. In addition, Louis Armstrong's accessible humor and sunny stage personality were major assets in popularizing jazz with larger audiences. Many youngsters were inspired to take up the trumpet after hearing or seeing him and millions more were introduced to jazz through Armstrong; in later years Louis Armstrong's worldwide tours resulted in him being widely known as "America's goodwill ambassador."
Few would have predicted greatness for Louis Armstrong based on his humble beginnings. Born in New Orleans on Aug. 4, 1901 (until his birth certificate was discovered in the late '80s, Armstrong's birth date was believed to have been July 4, 1900), Louis grew up in the poorest part of the city, sometimes singing in a vocal quartet on the street for pennies. On New Year's Eve of 1912 he got his hands on a pistol, shot it in the air in celebration and was quickly arrested and sent to live in a Waif's home that functioned as a type of juvenile hall. This would be the turning point of his life for it was at the Waif's home that he learned to play the cornet. Released after two years, Armstrong began playing with jazz groups and brass bands in New Orleans, developing quickly. When King Oliver, who had befriended Louis, left New Orleans in 1918 he recommended the young player as his replacement in a popular band led by trombonist Kid Ory. Four years later, Oliver sent for his protege to join his Creole Jazz Band in Chicago as second cornetist.
During 1922-24 King Oliver led the top classic jazz orchestra of the era, an octet which although emphasizing group improvisation also left room for short solos. While Oliver was a fine cornetist (more an inspiration than a direct influence on Louis' playing), it soon became obvious that Armstrong was surpassing him. Fortunately this very significant band recorded 41 tracks in 1923 for four labels for by the following year pianist Lil Harden (who became Louis' second of four wives) talked him into leaving Oliver and joining Fletcher Henderson's big band in New York.
Although considered the top jazz orchestra of the time, Henderson's band had not yet learned how to swing, really improvise or play the blues; at the time New York musicians were generally behind those from Chicago. However Armstrong's playing soon inspired the musicians and it was at this point that his impact was first really felt. Armstrong also began to record as an accompanist to blues singers (including Bessie Smith and Ma Rainey)' teamed up with Sidney Bechet in Clarence Wiliams' Blue Five and in 1925 (after he left Henderson and moved back to Chicago) he began his remarkable series of Hot Five and Hot Seven recordings.
With clarinetist Johnny Dodds, trombonist Kid Ory, pianist Lil Armstrong and banjoist Johnny St. Cyr, Armstrong recorded one classic after another during 1925-27, music that can be thought of as both the height of New Orleans jazz and the death of it due to the increasing emphasis on Armstrong's virtuosity. "Cornet Chop Suey" amazed fellow trumpeters (Louis switched from cornet to the similar sounding trumpet in 1927), "Heebies Jeebies" was a hit that greatly popularized scat singing and both "Potato Head Blues" and "Struttin' with Some Barbecue" had perfectly constructed and thrilling solos. In 1928 Armstrong led a completely different group in the studio, the Savoy Ballroom Five, that used the trombone and clarinet more as color than as competing voices and put the emphasis on the interplay between the trumpeter and the remarkable pianist Earl Hines. "West End Blues," with its remarkable opening trumpet cadenza, was considered by many (including Louis himself) to be his greatest recording while "Weather Bird" is a duet between Armstrong and Hines that found the two taking many chances with time; Louis' classic versions of "St. James Infirmary" and "Basin Street Blues" (which helped to introduce the two future standards) are almost after-thoughts next to these other remarkable records.
The odd part is that, with the exception of one appearance at a function put on by Okeh Records, the Hot Five and Seven (the latter added tuba and drummer player Baby Dodds to the original quintet) never played in public. Louis Armstrong was actually featured on a nightly basis in Chicago with big bands led by Erskine Tate and Carrol Dickerson and he was rapidly developing his talents as a showman. Starting in 1929 he began recording almost exclusively as the head of a variety of big bands, emphasizing superior pop standards of the era (such as "I Can't Give You Anything but Love"). During the next decade he became a household name, making two acclaimed visits to Europe during 1932-34, appearing in small but memorable roles in movies and leading a swing-oriented big band that mostly functioned as a backdrop for his vocals and trumpet solos. Although the most advanced playing of his career took place with Earl Hines in 1928 and his Decca recordings of 1935-44 often involved novelties and commercial material, Armstrong provided some musical magic to nearly all of the records and his singing voice was at its peak in the early '40s.
Still by the mid-'40s Louis Armstrong was considered out of style. His orchestra had declined and his own solos and clowning sounded at odds with his younger more bop-oriented sidemen. But after appearing with a variety of veteran players in the interesting if flawed Hollywood film New Orleans and having success playing with a small group at an acclaimed Town Hall concert in 1947, Armstrong broke up his big band and formed the All-Stars. His sextet (which originally included trombonist Jack Teagarden and clarinetist Barney Bigard and soon had Earl Hines) was an immediate success playing Dixieland and swing standards along with some comedy numbers, and Armstrong began a schedule of nearly non-stop travelling that lasted until his death.
After a few years the routines became fairly predictable and critics tired of them while some in the Civil Rights community thought of Armstrong as an Uncle Tom. However they all missed the point. While Armstrong was quick to make fun of himself and his nickname of "Satchmo" (short for "Satchelmouth") could be considered objectionable, Armstrong always stood up for his race (most notably during the struggle to integrate schools in the South) and spread more goodwill than anyone; his brilliant trumpet playing set an example that busted stereotypes. Audiences the world over loved the joy of Louis Armstrong's music; his main concern was always to please the people who paid to see him. And although Armstrong's music did not evolve much after the 1940s, neither did the playing of Johnny Hodges and Thelonious Monk!
In the 1950s Hines left the All-Stars and Teagarden and Bigard were replaced by Trummy Young and Edmond Hall but the basic sound of the group did not change. Armstrong, who also occasionally recorded with larger orchestras and with Ella Fitzgerald, found his celebrity status continuing to grow. He had major hits in "Blueberry Hill," "Mack the Knife" and "Hello Dolly" and when he died on July 6, 1971, there was no jazz musician who could approach him in popularity. With all of the reissues and continued acclaim (including a postage stamp), there is little chance that Louis Armstrong will ever be forgotten!