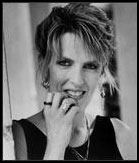 Lucinda Williams isn't the kind of artist who caves in easily. Faced with label executives and producers who want to shape her music into clean-cut, radio-friendly rock or country numbers -- no doubt with someone like Bonnie Raitt in mind -- Williams has time and again proven herself to be as stubborn (and most certainly for her own good) as she is talented. She's released a mere four albums (and one EP) since her debut on Folkways in 1979 partly because she's had such a hard time finding a label whose demands don't get in the way of the music as she hears it.
Raised under the intellectual nurture of her father -- poet, critic, and English lit professor Miller Williams (a buddy of Tom T. Hall) -- Lucinda spent her youth on the ramble from one college burg to another in the American South, as well as Mexico City and Santiago, Chile. She was already singing and playing by the time she was 12, when Dylan's Highway 61 Revisited had seeped into her psyche, and later found inspiration in the raw Delta blues of singers like Skip James, Bukka White, and Robert Johnson. By the early '70s she was playing shows of her own, mixing folk-inspired originals and traditional material. She traveled a bit before landing in Austin in 1974 at the height of the cosmic cowboy era. Next she tried Houston and became part of a folk scene there that also included Nanci Griffith, Lyle Lovett, and Townes Van Zandt.
In 1978 she spent an afternoon in the Jackson, MS R&B studio Malaco, and the result was her 1979 debut for Folkways, Ramblin' on My Mind, a collection of traditional blues and country standards. A year later she recorded "Happy Woman Blues" in Houston. This time all the songs were originals, and they featured a full band of acoustic guitar, fiddle, pedal steel, bass, and drums. Both albums have since been reissued on Smithsonian/Folkways.
It was eight years, however, until Williams' third album, Lucinda Williams, recorded for the indie-rock label Rough Trade. In the meantime she had lived back and forth between Houston and Austin before moving to Los Angeles in 1984. She's been courted by several labels, but always held out for creative control. In the end she won it, and her Rough Trade album immediately stood out for its integration of traditional folk, country, and blues influences into a rock and roll format. The album featured such stellar songs as "The Night's Too Long," "Passionate Kisses," and "Changed the Locks," and marked a new, more rock-oriented direction for Williams. Her guitarist and co-producer on that album, Gurf Morlix, has also become a vital part of her music, recording and touring with her ever since. In 1989 Rough Trade released the EP Passionate Kisses, which included four additional songs, three of which were live radio broadcasts.
An ill-fated association with RCA followed, but again Williams was unhappy with the results, and left the label before releasing anything. Her next album, Sweet Old World, didn't emege until 1992, and again it was on an indie label, Chameleon. Well worth the wait, it was again rich with Williams' hearty, twangy voice and solid, Southern-inflected rock & roll originals. Once again, too, critics and fans found it irresistible, and practically thanked God that Williams had chosen to keep her artistic integrity intact, no matter how long it had taken.
Since then Williams has switched labels again, this time to American Recordings, where after a brief stay she landed at Mercury, which in 1998 finally released her long-delayed Car Wheels on a Gravel Road.

Search
Artists
Styles
Biographies
Home

Order
My Account
Shipping Info

Live Radio
Free E-Mail
MP3
DVD
Movies

Hot Picks
TLC
Moby
N'Sync
Dr. Dre
Eiffel 65
Faith Hill
Kid Rock
Santana
D'Angelo
The Cure
No Doubt
Macy Gray
Dixie Chicks
Marc Anthony
Savage Garden
Christina Aguilera