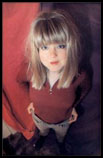 Playing her way from the subways and streets of London and Boston, guitarist/vocalist/songwriter Mary Lou Lord broke into the indie-rock scene in 1994 on the Kill Rock Stars label. After appearing on a KRS compilation, Lord released a self-titled EP in 1995 and a second EP, Martian Saints, in early 1997. Got No Shadow, her major-label debut with Sony Music's WORK Group, was released in 1998.
Lord's interest in music started when she worked as a DJ for a college radio station in the Boston area as a teenager. When the station changed format, she decided to concentrate on making her own music. After a stint at Boston's Berklee School of Music, she moved to London and learned the art of busking in the subway. She moved back to Boston and continued to play mostly acoustic covers on city sidewalks and in subways. In eight years of busking, she refined her talent and determined what music she liked to play. A KRS executive heard her play and eventually signed her to the label.
While most of Lord's live shows have been just her and her acoustic Martin guitar (even those beyond the subway), with the recording of Got No Shadow, she moved in the direction of electric pop-rock. She has recorded songs for two tribute albums -- "Power to the People" for Working Class Hero, a John Lennon tribute, and "Jump" for Everybody Wants Some, a Van Halen tribute released in fall of 1997.
Lord made the leap to the majors in 1997, signing with the Sony subsidiary Work. Her major-label debut and first full-length album Got No Shadow was released in January 1998. On it she performed songs by Nick Saloman of Bevis Frond and Freedy Johnston, as well as some of her own. The album, her first full-length release, was produced by Tom Rothrock and Rod Schnapf, co-founders of the WORK Group.

Search
Artists
Styles
Biographies
Home

Order
My Account
Shipping Info

Live Radio
Free E-Mail
MP3
DVD
Movies

Hot Picks
TLC
Moby
N'Sync
Dr. Dre
Eiffel 65
Faith Hill
Kid Rock
Santana
D'Angelo
The Cure
No Doubt
Macy Gray
Dixie Chicks
Marc Anthony
Savage Garden
Christina Aguilera