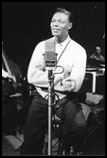 Nat King Cole had two overlapping careers. He was one of the truly great swing pianists, inspired by Earl Hines and a big influence on Oscar Peterson. And he was a superb pop ballad singer whose great commercial success in that field unfortunately resulted in him greatly de-emphasizing his piano after 1949. Perhaps if his talents had been divided between two different people!
Nat Cole grew up in Chicago and by the time he was 12 he was playing organ and singing in church; his three brothers (Eddie, Fred and Isaac) would become jazz musicians. After making his recording debut with Eddie Cole's Solid Swingers in 1936, he left Chicago to lead the band for the revival of the revue Shuffle Along, and settled in Los Angeles when the show ended. Cole struggled a bit, put together a trio with guitarist Oscar Moore and bassist Wesley Prince and eventually settled in for a long residency in Hollywood. In the early days (documented on radio transcriptions), most of the group's repertoire was comprised of instrumentals although the Trio often sang jivey novelty vocals together. However by the time the Trio had its first opportunity to record for Decca in December 1940, Nat King Cole had gained more confidence in his own singing. "Sweet Lorraine" resulted from that session and the Trio soon became quite popular. In future years Art Tatum, Oscar Peterson and Ahmad Jamal would all form piano/guitar/bass combos inspired by Cole's group.
Nat Cole recorded a great deal of exciting jazz during the 1940s including dates featuring Lester Young and Illinois Jacquet, the first Jazz at the Philharmonic concert (1944) and a countless number of selections for Capitol with his trio; all of the latter are included on a gigantic Mosaic limited-edition box set. Although his singing began to become quite popular by the mid-'40s (and particularly after "The Christmas Song" and "Nature Boy"), Cole mostly performed with his Trio during this era; Johnny Miller took over on bass and in 1947 Irving Ashby became the guitarist. Nat Cole was open to the influence of bop and in 1949 started utilizing Jack Costanzo on bongo and conga for some songs. However his career changed permanently in early 1950 with the recording of "Mona Lisa" which became a number one hit. Suddenly Nat King Cole became famous to the nonjazz public as a singer, and many new fans never realized that he also played piano! During the 1950s and '60s he mostly recorded pop ballads although there were a few exceptions (including 1956's After Midnight album) and he never lost his ability to play stimulating jazz. Cole had a regular television show during 1956-57 (some of which has been released on video) but due to the racism of the period he could never find a sponsor. However the popularity of his records and public appearances remained at a remarkable level and the world mourned Nat King Cole's death from lung cancer in early 1965 at age 47.

Search
Artists
Styles
Biographies
Home

Order
My Account
Shipping Info

Live Radio
Free E-Mail
MP3
DVD
Movies

Hot Picks
TLC
Moby
N'Sync
Dr. Dre
Eiffel 65
Faith Hill
Kid Rock
Santana
D'Angelo
The Cure
No Doubt
Macy Gray
Dixie Chicks
Marc Anthony
Savage Garden
Christina Aguilera