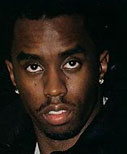 The biggest hip-hop impresario of the mid-'90s, Sean "Puffy" Combs -- or Puff Daddy, as he was known on his own musical projects -- created a multi-million dollar industry around Bad Boy Entertainment, with recordings by the Notorious B.I.G., Craig Mack, Faith Evans, 112 and Total, all produced and master-minded by Combs himself. Responsible for over $100 million in total record sales and named ASCAP's 1996 Songwriter of the Year, Combs was, on the other hand, criticized by many in the hip-hop community for watering down the sound of the underground and also for a perceived over-reliance on samples as practically the sole basis for many of his hits. A very successful A&R executive at Uptown Records during the early '90s, responsible for sizeable hit records by Father MC, Mary J. Blige, and Jodeci, Combs formed his own Bad Boy label, signed Notorious B.I.G., Evans, and Craig Mack, and earned enough hits to cement an alliance with Arista Records. A highly publicized feud with Death Row Records (in which Tupac Shakur and label-head Suge Knight served as West Coast/Dark Side equivalents to the Notorious B.I.G. and Combs) was summarily ended in late 1996, when Shakur was murdered and Knight jailed. Six months later, Notorious B.I.G. was dead as well, and after Combs mourned his friend's death, he hit the pop charts in a big way during his biggest year, 1997.
Born in Harlem in 1970, Sean Combs spent much of his childhood in nearby Mt. Vernon, New York. Already a shrewd businessman through his two paper routes, Combs applied to Howard University in Washington, D.C., and while attending, convinced childhood friend Heavy D. to sign him up as an intern at the label he recorded for, Uptown Records. Several months later he was an A&R executive with his sights set on the vice-presidency, serving as the executive producer for Father MC's 1990 album Father's Day, which became a hit. Successful albums followed for Mary J. Blige (What's the 411?) and Heavy D & the Boyz (Blue Funk) during 1992, though Combs was fired from Uptown by the following year (probably because he was a bit too ambitious). He worked as a remixer during 1993, and set up Bad Boy Entertainment as his own venture, running the label out of his apartment during long hours with only several employees. After more than a year of hard work, he finally signed two hit artists, former EPMD roadie Craig Mack and the Notorious B.I.G. Mack hit the big-time in mid-1994, when a remix of his "Flava in Ya Ear" single (featuring LL Cool J, Busta Rhymes, Rampage, and Notorious B.I.G.) hit the Top Ten and became the first platinum record for Bad Boy. B.I.G. notched the second at the beginning of 1995, when his own second hit "Big Poppa" reached number six on the pop charts. Mack's album Project: Funk Da World eventually went gold, and Notorious B.I.G.'s Ready to Die was certified double-platinum.
Sean "Puffy" Combs began branching out Bad Boy during 1995, adding platinum R&B acts Faith Evans and Total (both of whom were connected to B.I.G., Evans as his wife and Total as his former backing vocal group) plus another platinum seller, 112, in 1996. He also produced for many outside artists (including Aretha Franklin, Boyz II Men, Mariah Carey, TLC, SWV and Lil' Kim) and added two straightahead hip-hop acts, Mase and the Lox. By that time, however, Combs and B.I.G. were embroiled in a feud with Death Row Records head Suge Knight and star Tupac Shakur. Shakur accused Combs of involvement in his 1994 shooting, mocked B.I.G. by saying he had slept with Faith Evans, and threatened the two in the lyrics to his his song "Hit 'Em Up." (The video for the track featured two characters, P.I.G. and Buffy, who are humiliated in various ways.) In September 1996, however, Shakur was shot and killed by unknown assailants; just six months later, in March of 1997, B.I.G. himself was killed in the same fashion. Just three weeks later, his second album debuted at number one and was eventually certified six times platinum. The single "Hypnotize" also hit number one, and stayed on the charts for months after B.I.G. was killed. Though Combs had been preparing his own solo debut, under the name Puff Daddy, he quit working for several months out of grief for his long-time friend. When he returned in mid-1997, it was with a vengeance, as the single "Can't Nobody Hold Me Down" held the top spot on the singles charts for almost two months. Following quickly behind was another monster number one hit, "I'll Be Missing You," a tender tribute to Notorious B.I.G. with Faith Evans providing background vocals. Combs' subsequent LP as Puff Daddy, No Way Out, shot straight to number one and was certified platinum several times over; in 1998 it won the Grammy Award for Best Rap Album and "I'll Be Missing You" won the award for Best Rap Performance by a Duo or Group.

Search
Artists
Styles
Biographies
Home

Order
My Account
Shipping Info

Live Radio
Free E-Mail
MP3
DVD
Movies

Hot Picks
TLC
Moby
N'Sync
Dr. Dre
Eiffel 65
Faith Hill
Kid Rock
Santana
D'Angelo
The Cure
No Doubt
Macy Gray
Dixie Chicks
Marc Anthony
Savage Garden
Christina Aguilera