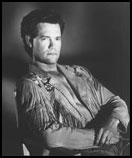 Like the Beatles in rock, Randy Travis marks a generational shift in country music. When his Storms of Life came out in 1986, country music was still wallowing in the post-Urban Cowboy recession, chasing elusive crossover dreams. Travis brought the music back to its basics, sounding like nothing so much as a perfect blend of George Jones and Merle Haggard. He became the dominant male voice in country until the rise of "hat acts" like Garth Brooks and Clint Black, releasing seven consecutive number one singles during one stretch. He won the CMA's Horizon Award in 1986 and was the association's Male Vocalist of the Year in 1987 and '88.
Randy Travis (born Randy Bruce Traywick, May 4, 1959, Marshville, North Carolian) was born and raised in North Carolina, in a small town outside of Charlotte. Travis's father encouraged his children to pursue their musical inclinations, as he was a fan of honky tonkers like Hank Williams, George Jones, and Lefty Frizzell. Randy began playing guitar at the age of eight and within two years, he and his brother Ricky and formed a duo called the Traywick Brothers. The duo played in local clubs and talent contests.
Both of the brothers had a wild streak, which resulted in Ricky going to jail after a car chase and Randy running away to Charlotte at the age of 16. While he was in Charlotte, he won a talent contest at Country City U.S.A., a bar owned by Lib Hatcher. Hatcher was impressed by Travis and offered him a regular gig at her bar, as well as a job as a cook.
For several years, he sang and worked at Country City. He still had trouble with the law in his late teens. At his last run-in with the police, the judge told him if he saw Travis again, he should be prepared to go to jail for a long time. Randy was released into the care of Hatcher. In a short time, Hatcher became Travis' manager and the pair began to concentrate on his career. Joe Stampley helped Randy land a contract with Paula Records in 1978. The following year, Travis released two singles under his given name; one of them, "She's My Woman," scraped the bottom of the country charts.
In 1982, Travis and Hatcher moved to Nashville, where she managed the Nashville Palace nightclub while he sang and cooked. Within a couple of years, the pair independently released his debut album under the name Randy Ray; the record was called Randy Ray Live and sold primarily in the Nashville Palace.
Thanks to Hatcher's persistent efforts and the Randy Ray Live album, Warner Brothers signed Randy in 1985 and suggested that he change his performing name to Randy Travis. "On the Other Hand," his first single for the label, was released in the summer of that year and climbed to number 67. Despite its lackluster performance, radio programmers were enthusiastic for Travis, as evidenced by the number six placing of "1982," which was released late in the year. "1982" was followed by a re-release on "On the Other Hand" in the spring of 1986 This time, the song hit number one.
Storms of Life, Travis' full-fledged debut album, was released in the summer of 1986 and became a huge success, eventually selling over three million copies. Travis was the first country artist to go multi-platinum; before his success, most country artists had difficulty achieving gold status. With his mass appeal, he set the stage for country music's cross-over success in the early '90s. However, Travis dominated the late '80s. The last two singles from Storms of Life, "Diggin' Up Bones" and "No Place Like Home," with number one and two, respectively. "Forever and Every, Amen" -- the first single from Randy's second album, 1987's Always & Forever -- began a streak of seven straight number one singles that ran through 1989. Always & Forever was more successful than his debut, reachin number 19 on the pop charts and going quadruple platinum; it also earned him the CMA's award for Male Vocalist of the Year. Old 8X10 (1988) and No Holdin' Back (1989) weren't quite as successful as their predecessors, but they still spawned number one singles and both went platinum.
Travis was still at the top of his form in the beginning of the '90s, starting the decade with his biggest hit, "Hard Rock Bottom of Your Heart." However, his hold at the top of the charts began to slip after Clint Black and, in particular, Garth Brooks. Nevertheless, Randy never fell away completely -- his albums continued to gold and he usually could crack the Top Ten. Wind in the Wire, a soundtrack to his television special released in 1992, marked his first unsuccessful album -- none of the single broke the Top 40. This is Me, released in 1994, was a succeessful comeback to the top of the charts, featuring "Whisper My Name," his first number one hit in two years. In August 1996, Travis released Full Circle, his last album for Warner Brothers. He left the label in 1997, signing with the fledgling "super"-label DreamWorks. His first album for the label, You and You Alone, was released in the spring of 1998.

Search
Artists
Styles
Biographies
Home

Order
My Account
Shipping Info

Live Radio
Free E-Mail
MP3
DVD
Movies

Hot Picks
TLC
Moby
N'Sync
Dr. Dre
Eiffel 65
Faith Hill
Kid Rock
Santana
D'Angelo
The Cure
No Doubt
Macy Gray
Dixie Chicks
Marc Anthony
Savage Garden
Christina Aguilera