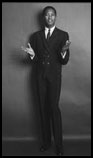 A performer whose sophisticated, crystalline vocal delivery and alchemical fusion of pop and gospel laid the foundations for the rise of modern soul music, Sam Cooke was a singer of remarkable spiritual resonance, a supreme talent whose vision transcended all barriers of race and faith. A champion of creative rights who wrote much of his own material and even established his own business empire to better realize his far-reaching musical ambitions, Cooke was also a champion of civil rights who utilized his stature as a performer to break down the color lines separating blacks from whites; a major crossover success, his brilliant career was tragically brief, but his shadow looms large over the generations of artists who emerged in his wake.
Born Sam Cook on January 22, 1931 in Clarksdale, Mississippi, he was one of eight sons of a Baptist minister and a featured vocalist in his church choir throughout his childhood, additionally teaming with three of his siblings in a quartet dubbed the Soul Children. As a teen, Cooke became a member of the gospel group the Highway QCs, performing in churches and auditoriums across the nation; in 1950, he joined the Soul Stirrers, recording and touring with the group for close to six years and achieving a significant level of success within the gospel community on the strength of lead turns on efforts including "Nearer to Thee" and "Touch the Hem of His Garment."
In 1956 he made his secular pop debut with the single "Lovable," recorded under the alias Dale Cooke in an attempt not to alienate his gospel fan base; however, when Art Rupe, the owner Soul Stirrers' label, Specialty, objected to producer "Bumps" Blackwell's plans for a follow-up effort, Cooke was released from his contract. Upon signing to the tiny Keen label, he resurfaced in 1957 under his own name with the self-penned "You Send Me," a majestic soul confection which sold some two million copies and made him a star. A series of hits -- most of them light romantic ballads and novelty tunes -- followed over the next two years, most notably the Top 40 hits "Wonderful World," "Only Sixteen" and "Everybody Likes to Cha Cha."
As the 1960s dawned, Cooke began taking an active interest in the music business, founding his own independent label, SAR, producing hits for the Simms Twins and the Valentinos and releasing early efforts from Bobby Womack and fellow Soul Stirrers alum Johnnie Taylor; additionally, he established his own publishing imprint, Kags Music, and even created his own management firm. At the same time, he left Keen to sign with RCA. Upon his arrival at the label, Cooke's music adopted a grittier, more gospel-influenced feel; his RCA debut, a reworking of "Chain Gang," became his biggest hit in some time, peaking at the number two position in 1960.
At RCA, Cooke's gifts reached their full potential as he reeled off a string of early 1960s hits ranging from the bluesy "Sad Mood" to the gospel-pop of "Bring It on Home to Me," through to the smooth soul of "Another Saturday Night" and the buoyant R&B of "Twisting the Night Away." While remaining primarily a singles artist, in 1963 he issued the superb Night Beat, a moody, intimate collection steeped heavily in the blues; unlike most pop albums of the era, which fleshed out a couple of hits with an abundance of filler, Night Beat was a complete and ambitious artistic statement, comprised purely of prime material. As his reputation as a performer grew, Cooke established fervent fan bases in both the pop and R&B markets, and eventually he graduated from the so-called "chitlin' circuit" of black-owned venues to Las Vegas casino stages and white nightclubs, emerging as a crossover superstar.
And then, at the peak of his career, Sam Cooke died. The circumstances surrounding his tragic murder on December 11, 1964 remain hazy: according to initial reports, he was shot three times by Bertha Franklin, the manager of Los Angeles' Hacienda Motel, who claimed she acted in self-defense after Cooke raped a 22-year-old woman and then turned to Franklin herself after the young woman escaped, taking his clothes with her. The shooting was ruled a justifiable homicide, but in subsequent years it has been rumored that a number of crucial details surrounding the case were buried in deference to Cooke's wife and children, who wished to avoid any further publicity and scrutiny; decades later, a satisfactory resolution to the matter has yet to be reached.
Even given the scandalous circumstances of his death, Cooke remained a major presence: At the Copa, a triumphant live set recorded at the elite New York club, was released during the month of his passing, and the single "Shake" reached the Top Ten a few weeks later. "A Change Is Gonna Come," another posthumous 1965 smash, was his true epitaph -- a thoughtful, spiritually charged assessment of the then-current state of American race relations, it presaged the ascendent civil rights movement with remarkable clarity. In the years following his murder, Cooke's stature continued to grow: disciples including Otis Redding and Al Green carried on his legacy with dignity and grace, and reissues and unreleased material -- most notably 1985's Live at the Harlem Square Club, 1963, an incendiary concert set recorded in Miami -- appeared regularly. In 1986, he was named a charter inductee of the Rock and Roll Hall of Fame.
Search
Artists
Styles
Biographies
Home

Order
My Account
Shipping Info

Live Radio
Free E-Mail
MP3
DVD
Movies

Hot Picks
TLC
Moby
N'Sync
Dr. Dre
Eiffel 65
Faith Hill
Kid Rock
Santana
D'Angelo
The Cure
No Doubt
Macy Gray
Dixie Chicks
Marc Anthony
Savage Garden
Christina Aguilera