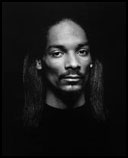 As the embodiment of '90s gangsta rap, Snoop Doggy Dogg blurred the lines between reality and fiction. Introduced to the world through Dr. Dre's The Chronic, Snoop Dogg quickly became the most famous star in rap, partially because of his drawled, laconic rhyming and partially because the violence that his lyrics implied seemed real, especially after he was arrested on charges of being a murder accomplice. The arrest certainly strengthened his myth, and it helped his debut album, 1993's Doggystyle, become the first debut album to enter the charts at number one, but in the long run, it hurt his career. Snoop had to fight charges throughout 1994 and 1995, and while he was eventually cleared, it hurt his momentum. The Doggfather, his second album, wasn't released until November 1996, and by that time, pop and hip-hop had burned itself out on gangsta-rap. The Doggfather sold half as well as its predecessor, which meant that Snoop remained a star, but he no longer had the influence he had just two years before.
Nicknamed Snoop by his mother because of his appearance, Calvin Broadus (b. October 20, 1972) was raised in Long Beach, California, where he frequently ran into trouble with the law. Not long after his high school graduation, he was arrested for possession of cocaine, beginning a period of three years where he was often imprisoned. He found escape from a life of crime through music. Snoop Dogg began recording homemade tapes with his friend Warren G, who happened to be the step-brother of N.W.A.'s Dr. Dre. Warren G gave a tape to Dre, who was considerably impressed with Snoop's style and began collaborating with the rapper.
When Dre decided to make his tenative first stab at a solo career in 1992 with the theme song for the film Deep Cover, he had Snoop rap with him. "Deep Cover" started a buzz about Snoop Dogg that escalated into full-fledged mania when Dre released his debut album, The Chronic, on Death Row Records late in 1992. Snoop Dogg rapped on The Chronic as much as Dre, and his drawled vocals were as important to the record's success as its P-Funk bass grooves. Dre's singles "Nuthin' But A 'G' Thang" and "Dre Day," which prominently featured Snoop, became Top 10 pop crossover hits in the spring of 1993, setting the stage for Snoop Doggy Dogg's much-anticipated debut album, Doggystyle. While he was recording the album with producer Dr. Dre in August, Snoop was arrested in connection with the drive-by-shooting death of Phillip Woldermarian. According to the charges, the rapper's bodyguard, McKinley Lee, shot Woldermarian as Snoop drove the vehicle; the rapper claimed it was self-defense, alleging that the victim was stalking Snoop. Following a performance at the MTV Music Awards in September 1993, he turned himself to authorities.
After many delays, Doggystyle was finally released on Death Row in November of 1993, and it became the first debut album to enter the charts at number one. Despite reviews that claimed the album was a carbon copy of The Chronic, the Top 10 singles "What's My Name?" and "Gin & Juice" kept Doggystyle at the top of the charts during early 1994, as did the considerable controversy over Snoop's arrest and his lyrics, which were accused of being exceeding violent and sexist. During an English tour in the spring of 1994, tabloids and a Tory minister pleaded for the government to kick the rapper out of the country, largely based on his arrest. Snoop exploited his impending trial by shooting a short film based on the Doggystyle song "Murder Was the Case, " and releasing an accompanying soundtrack which debuted at number one in 1994. By that time, Doggystyle had gone quadruple platinum.
Snoop Dogg spent much of 1995 preparing for the case, which finally went to trial in late 1995. In February of 1996, he was cleared of all charges and he began working on his second album, this time without Dre as producer. Nevertheless, when The Doggfather was finally released in November 1996, it beared all the evidence of a Dre-produced, G-funk record. The album was greeted with mixed reviews, and it initially sold well, but it failed to produce a hit along the lines of "What's My Name?" and "Gin & Juice." Part of the reason of the moderate success of The Doggfather was the decline of gangsta rap. Tupac Shakur, who had become a friend of Snoop Dogg during 1996, died weeks before the release of The Doggfather, Dre had left Death Row to his partner Suge Knight, who was indicted on racketeering charges by the end of 1996. Consequently, Snoop's second album got lost in the shuffle, stalling at sales of two million, which was disappointing for a superstar. Perhaps sensing something was wrong, Snoop began to revamp his public image, moving away from his gangsta roots towards a calmer lyrical aesthetic. He also began making gestures toward the rock community, signing up to tour with Lollapalooza 1997 and talking about two separate collaborations with Beck and Marilyn Manson. The solo Da Game Is to Be Sold Not to Be Told, Snoop's first effort for new label No Limit, followed in 1998; Top Dogg appeared a year later.
Search
Artists
Styles
Biographies
Home

Order
My Account
Shipping Info

Live Radio
Free E-Mail
MP3
DVD
Movies

Hot Picks
TLC
Moby
N'Sync
Dr. Dre
Eiffel 65
Faith Hill
Kid Rock
Santana
D'Angelo
The Cure
No Doubt
Macy Gray
Dixie Chicks
Marc Anthony
Savage Garden
Christina Aguilera