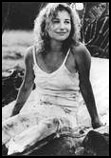 Tori Amos (b. Myra Ellen Amos) was one of several female singer/songwriters who combined the stark lyrical attack of alternative rock with a distinctly '70s musical approach. Her music falls between the orchestrated meditations of Kate Bush and the stripped-down poetics of Joni Mitchell. In addition to reviving the singer/songwriter traditions of the '70s, Amos revived the piano as a rock & roll instrument. With her 1992 album Little Earthquakes, Amos built a dedicated following that continued to expand with her second album, Under the Pink.
Born in North Carolina but raised in Maryland, Tori Amos was the daughter of a methodist preacher. By the age of four, she was singing and playing piano in the church choir; she began writing her own songs shortly afterward. Amos won a scholarship to Baltimore's Peabody Conservatory based on her instrumental prowess. While she was studying at Peabody, she became infatuated by rock & roll, particularly the music of Led Zeppelin. She began writing pop ballads and performing in local bars. Amos moved to Los Angeles in her late teens to become a pop singer.
Atlantic records signed her in 1987, recording an uninspired pop-metal album called Y Kant Tori Read the following year. The record was a complete failure, attracting no attention from radio or press and selling very few copies; nevertheless, she didn't lose her record contract. By 1990, Amos had adopted a new approach, singing spare, haunting semiconfessional piano ballads that were arranged like Kate Bush but had the melodies and lyrical approach of Joni Mitchell. Atlantic sponsored a trip to England in 1991, where she played a series of concerts in support of an EP, Me and a Gun.
The harrowing "Me and a Gun" was an autobiographical song, telling the tale of a rape. It gained positive reviews throughout the media, and both the EP and the concerts sold well. Little Earthquakes, Amos' first album as a singer/songwriter, was released in late 1991 and sold well in both the U.S. and the U.K. In 1992, she released the Crucify EP, which featured three covers, including Nirvana's "Smells Like Teen Spirit" and Led Zeppelin's "Thank You." Delivered in early 1994, Under the Pink, the full-length follow-up to Little Earthquakes, was a bigger hit, selling over a million copies and launching the minor hit singles "God" and "Cornflake Girl." Two years later, Amos delivered her third album, Boys for Pele, her most ambitious and difficult record to date. The album debuted at number two and quickly went platinum. Amos spent much of 1997 dealing with personal matters, including a miscarriage and a marriage, and working on her fourth album, from the choirgirl hotel, which was released in the spring of 1998. -- Stephen Thomas Erlewine
Search
Artists
Styles
Biographies
Home

Order
My Account
Shipping Info

Live Radio
Free E-Mail
MP3
DVD
Movies

Hot Picks
TLC
Moby
N'Sync
Dr. Dre
Eiffel 65
Faith Hill
Kid Rock
Santana
D'Angelo
The Cure
No Doubt
Macy Gray
Dixie Chicks
Marc Anthony
Savage Garden
Christina Aguilera