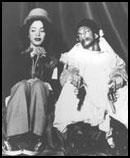 Originally, Tricky was a member of the Wild Bunch, a Bristol-based rap troupe that eventually metamorphosized into Massive Attack during the early '90s. Tricky provided pivotal raps on Massive Attack's groundbreaking 1992 album Blue Lines. The following year, he released his debut single, "Aftermath." Before he recorded "Aftermath," he met a teenage vocalist named Martina, who would become his full-time musical collaborator; all albums released under Tricky's name feature her contributions.
Tricky signed a contract with 4th & Broadway in 1994. The contract contained a clause which allowed him to release side-projects under different names, in addition to regular Tricky releases. "Ponderosa" and "Overcome" were released over the course of 1994; that same year, he made a cameo on Massive Attack's second album, Protection. Tricky's debut album, Maxinquaye, appeared in the spring of 1995. Not only did the album receive overwhelmingly positive reviews when it was released, but it entered in the UK charts at number two, despite the total lack of daytime radio airplay. Throughout 1995, Tricky was omnipresent in the UK, collaborating with and remixing for a wide variety of artists, including Bjork, Luscious Jackson and Whale. In the fall of 1995, he released Tricky Vs. the Gravediggaz, a collaboration with the American hardcore rap group, as well as a single called "I Be the Prophet," which was released under the name Starving Souls. At the end of the year, Maxinquaye topped many year-end polls in Britain, including the Melody Maker and NME.
In February of 1996, Nearly God -- an album featuring Tricky's collaborations with artists as diverse as Terry Hall, Bjork, Alison Moyet, and Neneh Cherry -- was released, again to strong reviews; the album was released in the US six months later. After completing the second full-fledged Tricky album, he relocated to New York City early in 1996, where he began working with underground rappers. An EP called Grassroots was released in the US in September. Two months later, Tricky's official second album, Pre-Millenium Tension, was released. Again, Tricky received positive reviews, though there were a few dissenting opinions.
In addition to his three releases of 1996, he remixed artists as diverse as Elvis Costello, Garbage, Yoko Ono and Bush. Tricky's next full-length solo effort, Angels with Dirty Faces, appeared in 1998.
Search
Artists
Styles
Biographies
Home

Order
My Account
Shipping Info

Live Radio
Free E-Mail
MP3
DVD
Movies

Hot Picks
TLC
Moby
N'Sync
Dr. Dre
Eiffel 65
Faith Hill
Kid Rock
Santana
D'Angelo
The Cure
No Doubt
Macy Gray
Dixie Chicks
Marc Anthony
Savage Garden
Christina Aguilera