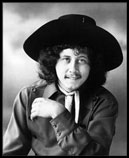 Like his father Woody Guthrie, Arlo Guthrie has carved out a career as a folksinger and songwriter with a social conscience who leavens political messages with humor. Though Woody Guthrie was hospitalized for much of Arlo's youth, the youngster nevertheless grew up in a musical community that included Pete Seeger, Leadbelly, and Cisco Houston. He learned to play the guitar at age six and was performing in coffeehouses by his late teens.
Guthrie's early fame was based on his anti-Establishment shaggy-dog story in song, "Alice's Restaurant," actually a comic monolog about the singer's troubles with the police and the draft board that was extremely timely when it appeared on record in 1967. The Alice's Restaurant album became Guthrie's only gold record, but he made a series of folk-rock records through the '70s, filling them with his own songs and those of his contemporaries, notably Steve Goodman's "The City of New Orleans," which became Guthrie's sole hit single in 1972.
Guthrie's commercial fortunes, like those of most folkies, declined by the end of the '70s, and he made his last album for Warner Bros. in 1981. Since then, he has launched his own label, Rising Son, which has reissued his Warner albums and released his new recordings. He continues to tour extensively and to work for such causes as environmentalism, issuing Mystic Journey in 1998.

Search
Artists
Styles
Biographies
Home

Order
My Account
Shipping Info

Live Radio
Free E-Mail
MP3
DVD
Movies

Hot Picks
TLC
Moby
N'Sync
Dr. Dre
Eiffel 65
Faith Hill
Kid Rock
Santana
D'Angelo
The Cure
No Doubt
Macy Gray
Dixie Chicks
Marc Anthony
Savage Garden
Christina Aguilera