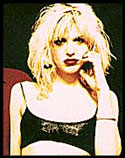 Throughout Hole's career, vocalist/guitarist Courtney Love's notorious public image has overshadowed her band's music. In its original incarnation, Hole was one of the noisiest, most abrasive alternative bands performing in the early '90s. By the time of their second album, 1994's Live Through This, the band had smoothed out many of their rougher edges, as well as adding more melody and hooks to their songwriting. Through both versions of Hole, Love's combative, assaultive persona permeated both the group's music and lyrics, giving the band a tense, unpreditable edge even at their quietest moments.
Love formed Hole in Los Angeles in 1989, recruiting guitarist Eric Erlandson through a newspaper add. Love had played with numerous bands before Hole, including an early version of Babes In Toyland and Faith No More. Erlandson and Love eventually drafted bassist Jill Emery and drummer Caroline Rue into the band, recording their first album with producer Kim Gordon, the bassist of Sonic Youth. The violent and uncompromising Pretty on the Inside, Hole's debut record, was released on Caroline Records in 1991, to numerous positive reviews, especially in the British weekly music press.
In early 1992, Courtney Love married Kurt Cobain, the lead singer/songwriter of Nirvana. For a couple of months, the couple were the king and queen of the new rock world; soon, that world came crashing in. Cobain became addicted to heroin and the couple fought to keep custody of their baby after a piece in Vanity Fair accused Love of shooting heroin while pregnant, charges which she vehemently denied at the time; she would later admit that she had taken small quanities of the drug. By 1993, their private world had settled down somewhat, with Cobain and Love recording new albums with their respective bands.
Halfway through 1993, Love reassembled Hole with Erlandson, adding bassist Kristen M. Pfaff and drummer Patty Schemel. Hole was set to release their first major-label album, the more pop-oriented Live Through This, on DGC Records in April of 1994. Advance word on the album was overwhelmingly positive, with many critics calling it one of the best records of the year. Four days before the album was released, Kurt Cobain's body was discovered in the couple's Seattle home; he died of a self-inflicted shotgun wound three days before.
Two months after Cobain's death, Kristen M. Pfaff was found dead of a heroin overdose in a Seattle apartment. Two months later, Hole began touring again, with bassist Melissa Auf Der Maur taking Pfaff's place. "Doll Parts" was released as a single late in 1994, climbing into the Top 60 by the beginning of 1995. Live Through This topped many critics' polls at the end of the year, including Rolling Stone and the Village Voice. After Live Through This went gold in the summer of 1995, Hole toured with the fifth Lollapalooza tour. The often-delayed Celebrity Skin followed in 1998.

Search
Artists
Styles
Biographies
Home

Order
My Account
Shipping Info

Live Radio
Free E-Mail
MP3
DVD
Movies

Hot Picks
TLC
Moby
N'Sync
Dr. Dre
Eiffel 65
Faith Hill
Kid Rock
Santana
D'Angelo
The Cure
No Doubt
Macy Gray
Dixie Chicks
Marc Anthony
Savage Garden
Christina Aguilera