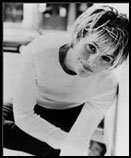 Shawn Colvin is one of the bright spots of the so-called "new folk movement" that began in the late '80s. And though she grew out of the somewhat limited "woman with a guitar" school, she has managed to keep the form fresh with a diverse approach, avoiding the clichéd sentiments and all-too-often formulaic arrangements that have plagued the genre. In less than a decade of recording, Colvin has emerged as a songcraftsman with plenty of pop smarts, which has earned her a broad and loyal following.
Shawn Colvin was born in Vermillion, South Dakota on January 10, 1956. By age ten, she found a passion for music, teaching herself guitar. After moving to London, Ontario and then Carbondale, Illinois, Colvin formed the Shawn Colvin Band, a hard rock outfit, whose high-energy demands soon strained her voice. She moved to Austin, Texas and joined the Western swing band the Dixie Diesels, singing with the band until nodes forced a temporary retirement at age 24. In 1983, she moved to New York, where she found a home in the city's singer/songwriter scene, building a following in New York and Boston through constant gigs. Through the '80s she worked her way up the folk circuit, also appearing in off-Broadway shows such as Pump Boys and Dinettes, Diamond Studs and Lie of the Mind. Her work appeared in Fast Folk Magazine, and she got her first break in 1987 singing backup on Suzanne Vega's hit "Luka."
By 1988, she found a songwriting partner in John Leventhal, Colvin providing the lyrics to his melodies. A live tape sold at gigs (Live '88) attracted the attention of Columbia Records, who signed her the same year in the wake of success from like-minded performers Tracy Chapman, Suzanne Vega, and the Indigo Girls. Steady On, released in 1989, won the Grammy for Best Contemporary Folk Recording. Colvin's 1992 follow-up, the more pop-oriented Fat City, earned her two more nominations -- Best Contemporary Folk Recording and Best Female Pop Vocal for the single "I Don't Know Why" -- as well as considerable critical praise and a growing crossover audience. "I Don't Know Why" became a big adult contemporary hit. Cover Girl, an album of cover songs, met with mixed reviews and modest sales in 1994, but she again earned a nominated for Best Contemporary Folk Recording. In late 1996, Colvin released A Few Small Repairs. In addition to her normal recording activities, Colvin has dueted with Tony Bennett for the film It Could Happen to You and made a cameo appearance in the film Grace of My Heart, singing one song for the soundtrack.
A Few Small Repairs slowly became a hit over the course of 1997, thanks to strong word of mouth and the single "Sunny Came Home." In 1998, "Sunny Came Home" won Grammy Awards for Record of the Year and Song of the Year. Holiday Songs and Lullabies followed that autumn.
Search
Artists
Styles
Biographies
Home

Order
My Account
Shipping Info

Live Radio
Free E-Mail
MP3
DVD
Movies

Hot Picks
TLC
Moby
N'Sync
Dr. Dre
Eiffel 65
Faith Hill
Kid Rock
Santana
D'Angelo
The Cure
No Doubt
Macy Gray
Dixie Chicks
Marc Anthony
Savage Garden
Christina Aguilera