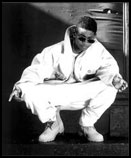 After being spotted by a LaFace record executive at a talent show in his hometown of Atlanta, Georgia, it took no time for hip-hop crooner Usher Raymond's career to take off. The 14-year-old auditioned for LaFace Records co-founder L.A. Reid, who signed the gospel choir boy to a recording contract.
Raymond was introduced to the world simply as "Usher," and released his debut album of the same name in 1994, which featured co-executive producer Sean "Puffy" Combs. The first single, "Think of You, " gained Usher notoriety and reached gold status. From that initial exposure, Usher was approached to do other projects. In 1995, he recorded a national holiday jingle for Coca-Cola. He also joined several top male R&B vocalists to form Black Men United for the single "You Will Know, " featured on the Jason's Lyric soundtrack. He also teamed with teen singing sensation Monica for a duet remake of Lattimore's "Let's Straighten It Out."
After graduating from high school, Usher graduated as well to his sophomore release, My Way, in 1997. In an attempt to expose his maturity and songwriting abilities, Usher co-wrote six of the nine songs and enlisted the help of producers Jermaine Dupri, Babyface, and, again, Sean "Puffy" Combs. The album's first single, "Make Me Wanna," was an instant hit and re-established Usher as one of R&B's hottest artists. My World, My Way followed in 1998, and a year later he returned with Live.
Search
Artists
Styles
Biographies
Home

Order
My Account
Shipping Info

Live Radio
Free E-Mail
MP3
DVD
Movies

Hot Picks
TLC
Moby
N'Sync
Dr. Dre
Eiffel 65
Faith Hill
Kid Rock
Santana
D'Angelo
The Cure
No Doubt
Macy Gray
Dixie Chicks
Marc Anthony
Savage Garden
Christina Aguilera