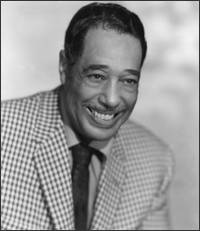 Duke Ellington's contributions to jazz and American music were simply enormous. As a bandleader, his orchestra during 1926-74 was always among the top five, whether it be 1929 or 1969. As a composer, Ellington ranked with George Gershwin, Cole Porter, Irving Berlin and their contemporaries. He wrote literally thousands of songs (the exact number is not known) of which hundreds became standards. As an arranger Ellington was particularly innovative, writing for his very individual players rather than for an anonymous horn section and, not being content to play his songs the same way every time, he constantly rearranged them; "Mood Indigo" sounded different in 1933 than it did in 1953 or 1973. As a pianist Duke Ellington was originally an excellent stride player who gained the respect of such giants as James P. Johnson, Fats Waller and his main influence Willie "The Lion" Smith. Unlike virtually all of his contemporaries (other than Mary Lou Williams), Duke was able to modernize his style through the years, keeping the percussive approach of the stride players but leaving more space and using more complex chords; his playing was an influence on Thelonious Monk and (in a more abstract fashion) Cecil Taylor.
Duke Ellington always considered his orchestra to be his main instrument and with it he recorded constantly from 1926 on. In the early days he recorded for many labels, sometimes under pseudonyms, and by the 1950s he often seemed to live in the studios when not performing before audiences, trying out new material and fresh versions of older songs. The result is that there are currently a countless number of Ellington albums available (way over 200) with "new" (previously unissued) ones coming out nearly every month as if he were still alive. What is more remarkable than the quantity is the consistently high quality; there are few if any throwaways in Ellington's entire discography!
There is simply no explanation for Edward Kennedy Ellington's musical genius. Although he started studying piano when he was seven, for a time it seemed that Duke (who picked up his lifelong nickname early) was going to be an artist. However he so enjoyed hearing the ragtime and barrelhouse piano players of the era that he soon chose music. Ellington started playing music in Washington, D.C. in 1917 and, after wisely taking out the biggest ad in the telephone yellow pages, was soon leading several bands despite the fact that his repertoire was very limited. Ellington, whose first composition "Soda Fountain Rag" was written during this era, worked on building up his technique by slowing down James P. Johnson piano rolls and analyzing the fingering. A brief visit to New York in 1922 (playing with Wilbur Sweatman) was unsuccessful but Ellington returned the following year and was determined to stick it out. He and such hometown friends as Sonny Greer, Otto Hardwicke and Arthur Whetsol worked for a period under banjoist Elmer Snowden's leadership and then, after an argument over missing money, Ellington became the leader. His early group was called the Washingtonians.
Duke Ellington soon gained a job at the Hollywood Club (later renamed the Kentucky Club) for his band. For a brief time Sidney Bechet starred on soprano but more important to Duke's development was the playing of trumpeter Bubber Miley, a brilliant plunger specialist who largely founded the "jungle sound" that made Ellington's group sound different than anyone else. Duke recorded two titles with his group in November 1924 ("Choo Choo" and "Rainy Nights") that found his band already sounding recognizable despite only having three horns (with altoist Otto Hardwicke and trombonist Charles Irvis). Oddly enough the eight other selections that he recorded during 1925-26 are quite primitive and disappointing; Miley is absent and the band sounds as if it were struggling. However with the debut of Ellington's early theme song "East St. Louis Toodleoo" along with "Birmingham Breakdown" on the session of November 29, 1926, the Duke Ellington Orchestra was essentially born. The band was up to 11 pieces including the wonderful wa-wa trombonist Tricky Sam Nanton, who made for a perfect team with Miley.
1927 was the breakthrough year for Duke Ellington. In addition to recording more versions of "East St.Louis Toodle-oo," he debuted "Black and Tan Fantasy" and "Creole Love Call"; the latter used Adelaide Hall's voice as an instrument. Baritonist Harry Carney (who would remain with Duke nonstop through 1974!) became a key member of the ensemble. And Ellington's band (through the help of manager Irving Mills) gained a permanent spot at the Cotton Club. Not only would its radio broadcasts soon make Ellington famous throughout the country but he had the opportunity to write for the floor shows and the experience led to him growing rapidly as a composer/arranger.
Duke Ellington's life would never be a good topic for a Hollywood movie because from 1927 on it was one success after another. In 1928 clarinetist Barney Bigard and altoist Johnny Hodges became long-time members and Arthur Whetsol (whose lyrical trumpet offered a contrast to the speech-like playing of Miley) gained a more prominent role. In early 1929 Bubber Miley, whose alcoholism led to him becoming increasingly unreliable, was reluctantly let go but his replacement Cootie Williams would eventually be a more flexible soloist. Ellington appeared in his first film (Black and Tan) that year, and unlike most other Black celebrities of the 1920s and '30s, his performance did not find him acting as a clown or inferior to White people. Ellington always appeared as a classy and charming genius (just as he did in real life) and, despite the "inconvenience" of being Black in a racist society, Duke Ellington was able to survive (and eventually prosper) due to his brilliance without compromising himself.
While most big bands might have three or four notable soloists, Ellington's Orchestra in the 1930s featured eight: trumpeters Cootie Williams and Rex Stewart (the latter joined on cornet in 1935), trombonists Tricky Sam Nanton and Lawrence Brown, clarinetist Barney Bigard, altoist Hodges, baritonist Carney and the leader on piano; in addition Ivie Anderson was their fine singer. After leaving the Cotton Club in 1931 (although he would return on an occasional basis throughout the rest of the decade), the Ellington Orchestra became a road band, touring Europe and Sweden in 1933 and 1939 and becoming a major attraction in every key city in the U.S. Ellington, who had recorded a two-sided six-minute version of "Tiger Rag" in 1929 began to compose longer works including "Creole Rhapsody" (1931), and "Reminiscing in Tempo" (1935), and his three-minute masterpiece "Daybreak Express" found the orchestra doing an uncanny imitation of a train's journey. Although there was a lot more competition from big bands with the rise of the swing era in 1935, Ellington remained a major name. Such compositions as "Mood Indigo," "Rockin' in Rhythm," "It Don't Mean a Thing If It Ain't Got That Swing," "Sophisticated Lady," "Drop Me Off at Harlem," "In a Sentimental Mood," "Caravan" (written by valve trombonist Juan Tizol), "I Let a Song Go Out of My Heart," "Prelude to a Kiss," "Solitude" and "Boy Meets Horn" became standards.
By 1940 Duke Ellington's Orchestra had become, if anything, even stronger. Ben Webster joined as their first major voice on tenor, the innovative bassist Jimmy Blanton became the first important soloist on his instrument in jazz history and Billy Strayhorn, as arranger and composer, became Ellington's musical partner up until his death in 1967. When Cootie Williams departed in late 1940, Ray Nance (a fine trumpeter, violinist and vocalist) easily fit into the spot. Many critics consider Duke's 1940-42 big band to be his greatest. Certainly there was an explosion of activity with such new pieces as "Concerto for Cootie," "Cotton Tail," "Harlem Air Shaft," "All Too Soon," "Warm Valley," "Take the 'A' Train," "Just A-Settin' and A-Rockin '," "I Got It Bad," "Jump for Joy," "Chelsea Bridge," "Perdido," "The 'C' Jam Blues," "Johnny Come Lately" forming only a partial list of the orchestra's accomplishments.
In 1943 Duke Ellington gave his first Carnegie Hall concert (it would be an annual series lasting until 1950) and debuted his 50-minute work "Black, Brown and Beige" which, although it received mixed reviews, can now be heard and evaluated as a major success. The turnover in his orchestra increased during the latter half of the 1940s but the quality remained consistently high and, despite the collapse of the big-band era and the rise of bebop (a music that Ellington accepted and borrowed from), Duke's orchestra never did break up; his royalty payments from his hits helped keep the big band together. Such new players as trumpeters Taft Jordan, Shorty Baker and the remarkable high-note player Cat Anderson (who had several long stints with Duke), Tyree Glenn (on trombone and vibes), Al Sears on tenor and bassist Oscar Pettiford passed through the band and clarinetist Jimmy Hamilton stayed into the late '60s. "Don't Get Around Much Anymore" was a hit and Ellington also wrote such lengthy works as "The Perfume Suite," "The Deep South Suite" and "The Liberia Suite"; the last theme of "Happy Go Lucky Local" was "borrowed" by Jimmy Forrest and retitled "Night Train."
By the early '50s, Duke Ellington was in the only slump of his career but it was more a commercial slip than artistic. Johnny Hodges, Lawrence Brown and Sonny Greer suddenly left to form a small group under Hodges' leadership. In what was called "The Great James Robbery," Duke persuaded three members of Harry James' Orchestra to join him: drummer Louie Bellson, altoist Willie Smith and Juan Tizol (who had left Ellington in the 1940s). But by 1953-54 the orchestra was struggling a bit during an era when few big bands survived. However in 1955 Hodges returned to the fold and at the 1956 Newport Jazz Festival tenor-saxophonist Paul Gonsalves took an exciting marathon solo on "Diminuendo and Crescendo in Blue" that caused a sensation. Ellington was big again and the momentum would continue through the remainder of his life.
With such fine soloists as trumpeters Clark Terry, Ray Nance, Cat Anderson and Willie Cook, trombonists Buster Cooper and Britt Woodman and a reed section that was together for over a decade (Hodges, Carney, Hamilton, Gonsalves and Russell Procope on clarinet and alto), Ellington's late-'50s orchestra could hold its own with any of his groups. Although "Satin Doll" in the early '50s was his last pop hit, Duke continued working major works with Strayhorn. In the 1960s he turned towards religion, writing music for three sacred concerts and also composing "The Far East Suite," a very impressive and modern work. Duke also recorded albums on which he played piano in a trio with Charles Mingus and Max Roach, sat in with both the Louis Armstrong All-Stars and the John Coltrane Quartet and he had a double big-band date with Count Basie and a combo session with Coleman Hawkins. Constantly travellling the world and receiving long overdue honors (although not a Pulitzer Prize), Duke Ellington was finally recognized as a remarkable national treasure.
By the latter half of the '60s, Ellington's associates were starting to die off. Billy Strayhorn's loss in 1967 was major as was Johnny Hodges's passing in 1970. There were important new members in Harold Ashby on tenor, altoist Norris Turney and (in 1973) trumpeter Barry Lee Hall. But in 1974 Duke Ellington was stricken with cancer and spent his 75th birthday in a hospital. His death four weeks later has left a huge hole that will never be filled.