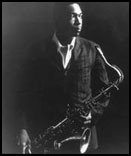 The most influential jazz musician of the past 40 years (only Miles Davis comes close), one of the greatest saxophonists of all time and a remarkable innovator, John Coltrane certainly made his impact on jazz!
Unlike most musicians, Coltrane's style changed gradually but steadily over time. His career can be divided into at least five periods: Early days (1947-54), searching stylist (1955-56), sheets of sound (1957-59), the classic quartet (1960-64) and avant-garde (1965-67). Originally an altoist, he played in a Navy band during his period in the military, recording four privately issued songs in 1946. He settled in Philadelphia and then toured with King Kolax (1946-47), switched to tenor when he played with Eddie "Cleanhead" Vinson (1947-48), joined the Dizzy Gillespie big band (1948-49) and was with Dizzy's sextet (1950-51). Radio broadcasts from the latter association find Coltrane sounding heavily influenced by Dexter Gordon and hinting slightly at his future sound. He followed that gig with periods spent with the groups of Gay Crosse (1952), Earl Bostic (1952), Johnny Hodges (1953-54) and in Philadelphia for a few weeks with Jimmy Smith (1955).
The John Coltrane story really starts with his joining the Miles Davis Quintet in 1955. At first some observers wondered what Miles saw in the 28-year old tenor who had an unusual sound and whose ideas sometimes stretched beyond his technique. However Davis was a masterful talent scout who could always hear potential greatness. Coltrane improved month-by-month and by 1956 was competing with Sonny Rollins as the top young tenor; he even battled him to a draw on their recording of "Tenor Madness." Coltrane (along with Red Garland, Paul Chambers and Philly Joe Jones) formed an important part of the classic Miles Davis Quintet, recording with Miles for Prestige and Columbia during 1955-56. In addition Trane was starting to be featured on many of Prestige's jam-session-oriented albums.
1957 was the key year in John Coltrane's career. Fired by Miles Davis due to his heroin addiction, Coltrane permanently kicked the habit. He spent several months playing with Thelonious Monk's Quartet, an mutually beneficial association that gave Monk long-overdue acclaim and greatly accelerated the tenor's growth. His playing became even more adventurous than it had been, he recorded Blue Train (his first great album as a leader) and, when he rejoined Miles Davis in early 1958, Coltrane was unquestionably the most important tenor in jazz. During his next two years with Davis, Trane (whose style had been accurately dubbed "sheets of sound" by critic Ira Gitler) really took the chordal improvisation of bop to the breaking point, playing groups of notes with extreme speed and really tearing into the music. In addition to being one of the stars of Davis' recordings (including Milestones and Kind of Blue), Coltrane signed a contract with Atlantic and began to record classics of his own; "Giant Steps" (with its very complex chord structure) and "Naima" were among the many highlights.
By 1960 John Coltrane was long overdue to be a leader and Miles Davis reluctantly let him go. 'Trane's direction was changing from utilizing as many chords as possible (it would be difficult to get any more extreme in that direction) to playing passionately over one or two-chord vamps. He hired pianist McCoy Tyner, drummer Elvin Jones and went through several bassists (Steve Davis, Art Davis, Reggie Workman) before settling on Jimmy Garrison in late 1961. The first artist signed to the new Impulse label, Coltrane was given complete freedom to record what he wanted. He had recently begun doubling on soprano, bringing an entirely new sound and approach to an instrument previously associated with the Dixieland of Sidney Bechet (although Steve Lacy had already started specializing on it) and Coltrane's 1960 Atlantic recording of "My Favorite Things" became a sort of theme song that he revisited on a nightly basis.
John Coltrane continued to evolve during 1961-64. He added Eric Dolphy as part of his group for a period and recorded extensively at the Village Vanguard in late 1961; the lengthy explorations were branded by conservative critics as "anti-jazz." Partly to counter their stereotyping (and short memories), 'Trane recorded with Duke Ellington in a quartet, a ballad program and a collaboration with singer Johnny Hartman; his playing throughout was quite beautiful. But live in concert his solos (which could be 45 minutes in length) were always intense and continually searching. He utilized such songs as "Impressions" (which used the same two-chord framework as Miles Davis' "So What") and "Afro Blue" for long workouts and took stunning cadenzas on the ballad "I Want to Talk About You." In addition to the Impulse! recordings, European radio broadcasts have since been released that show Coltrane's progress and consistency. And in December 1964 he displayed his vast interest in Eastern religion by recording the very popular A Love Supreme.
In 1965 it all began to change. Influenced and inspired by the intense and atonal flights of Albert Ayler, Archie Shepp and Pharoah Sanders, Coltrane's music dropped most of the melodies and essentially became passionate sound explorations. Ascension from mid-year featured six additional horns (plus a second bassist) added to the quartet for almost totally free improvisations. Fast themes (such as "One Down, One Up" and "Sun Ship") were quickly disposed of on the way to waves of sound. Coltrane began to use Pharoah Sanders in his group to raise the intensity level even more and when he hired Rashied Ali as second drummer, it eventually caused McCoy Tyner (who said he could no longer hear himself) and Elvin Jones to depart.
In 1966 Coltrane had a quintet consisting of his wife Alice on piano, Sanders, Ali and the lone holdover Jimmy Garrison. After a triumphant visit to Japan, Coltrane's health began to fail. Although the cause of his death on July 17, 1967 was listed as liver cancer, in reality it was probably overwork. Coltrane used to practice ten to twelve hours a day and when he had a job (which featured marathon solos), he would often spend his breaks practicing in his dressing room! It was only through such singlemindedness that he could reach such a phenominal technical level, but the net result was his premature death.
Virtually every recording that John Coltrane made throughout his career is currently available on CD, quite a few books about him have been written and a video ( ) gives today's jazz followers an opportunity to see him performing on a pair of half-hour television shows. Since Coltrane's passing no other giant has dominated jazz on the same level. In fact many other saxophonists have built their entire careers on exploring music from just one of John Coltrane's periods!