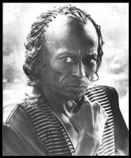 Miles Davis had quite a career, one with so many innovations that his name is one of the few that can be spoken in the same sentence with Duke Ellington. As a trumpeter, Davis was never a virtuoso on the level of his idol Dizzy Gillespie but by 1947 he possessed a distinctive cool-toned sound of his own. His ballad renditions (utilizing a Harmon mute) were exquisite yet never predictable, he mastered and then stripped down the bebop vocabulary to its essentials and he generally made every note count; as with Thelonious Monk, less was more in Miles' music.
But Miles Davis was much more than just a trumpeter. As a bandleader he was a brilliant talent scout, able to recognize potential in its formative stage and bring out the best in his sidemen. Among the musicians who greatly benefitted from their association with Davis were Gerry Mulligan (virtually unknown when he played with Miles' Birth of the Cool Nonet), Gil Evans, John Coltrane, Red Garland, Paul Chambers, Philly Joe Jones, Cannonball Adderley, Bill Evans, Jimmy Cobb, Wynton Kelly, George Coleman, Wayne Shorter, Herbie Hancock, Ron Carter, Tony Williams, Chick Corea, Jack DeJohnette, Dave Holland, John McLaughlin, Joe Zawinul, Keith Jarrett, Steve Grossman, Gary Bartz, Dave Liebman, Al Foster, Sonny Fortune, Bill Evans (the saxophonist), Kenny Garrett, Marcus Miller, Mike Stern and John Scofield. This partial list forms a who's who of modern jazz.
In addition to his playing and nurturing of young talent, Miles Davis was quite remarkable in his rare ability to continually evolve. Most jazz musicians (with the exceptions of John Coltrane and Duke Ellington) generally form their style early on and spend the rest of their careers refining their sound. In contrast Miles Davis every five years or so would forge ahead, and due to his restless nature he not only played bop but helped found cool jazz, hard bop, modal music, his own unusual brand of the avant-garde and fusion. Jazz history would be much different if Davis had not existed.
Born in Alton, IL, Miles Davis grew up in a middle-class family in East St. Louis. He started on trumpet when he was nine or ten, played in his high-school band and picked up early experience gigging with Eddie Randall's Blue Devils. Miles Davis has said that the greatest musical experience of his life was hearing the Billy Eckstine Orchestra (with Dizzy Gillespie and Charlie Parker) when it passed through St. Louis.
In September 1944 Davis went to New York to study at Juilliard but spent much more time hanging out on 52nd Street and eventually dropped out of school. He played with Coleman Hawkins, made his recording debut in early 1945 (a rather nervous session with singer Rubberlegs Williams) and by late 1945 was playing regularly with Charlie Parker. Davis made an impression with his playing on Bird's recordings of "Now's the Time" and "Billie's Bounce." Although influenced by Dizzy Gillespie, even at this early stage the 19-year old had something of his own to contribute.
When Charlie Parker went with Gillespie out to California, Miles followed him a few months later by travelling cross-country with Benny Carter's Orchestra. He recorded with Parker in California and when Bird formed a quintet in New York the following year, Davis was a key member. By late 1948 when he went out on his own, Miles Davis had formed a nonet that with arrangements by Gerry Mulligan, Gil Evans and John Lewis, helped usher in "cool jazz." Although the group only had one paying job (two weeks in September 1948 as an intermission band for Count Basie at the Royal Roost), its dozen recordings for Capitol were highly influential in the West Coast jazz movement.
Typically, by the time his nonet dates were renamed "Birth of the Cool," Miles Davis had moved on. He played at the Paris Jazz Festival in 1949 with Tadd Dameron and during 1951-54 was recording music with such sidemen as J.J. Johnson, Jimmy Heath, Horace Silver, Art Blakey and Sonny Rollins that directly led to hard bop. However this was very much an off period for Miles because he was a heroin addict who was only working on an irregular basis. In 1954 he used all of his will power to permanently kick heroin and his recording that year of "Walkin '," although overlooked at the time, is a classic.
1955 was Miles Davis' breakthrough year. His performance of "'Round Midnight" at the Newport Jazz Festival alerted the critics that he was "back." Davis formed his classic quintet with John Coltrane, Red Garland, Paul Chambers and Philly Joe Jones and during 1955-56 they recorded four well-received albums for Prestige and 'Round Midnight for Columbia. Davis' muted ballads were very popular and he became a celebrity. Even the breakup of the quintet in early 1957 did not slow up the momentum. Miles recorded the first of his full-length collaborations with arranger Gil Evans (Miles Ahead) which would be followed by Porgy and Bess (1958) and Sketches of Spain (1960); on these recordings Davis became one of the first trumpeters to stretch out on flugelhorn. In 1957 he went to France to record the soundtrack for Lift to the Scaffold and then in 1958 he formed his greatest band, a super sextet with Coltrane, Cannonball Adderley, Bill Evans, Paul Chambers and Philly Joe Jones. Although Evans and Jones were eventually succeeded by Wynton Kelly and Jimmy Cobb, all of the recordings by this remarkable group somehow live up to their potential with Milestones and Kind of Blue being all-time classics that helped to introduce modal (or scalar) improvising to jazz.
If Miles Davis had retired in 1960, he would still be famous in jazz history, but he had many accomplishments still to come. The sextet gradually changed with Adderley departing and Coltrane's spot being taken first by Sonny Stitt then Hank Mobley. Although 1960-63 is thought of as a sort-of resting period for Davis, his trumpet chops were in prime form and he was playing at the peak of his powers. With the departure of the rhythm section in 1963, it was time for Miles to form another group. By 1964 he had a brilliant young rhythm section (Herbie Hancock, Ron Carter and Tony Williams) who were open to the innovations of Ornette Coleman in addition to funky soul-jazz. With George Coleman on tenor, the sidemen really inspired Davis and, although he was sticking to his standard repertoire, the renditions were full of surprises and adventurous playing. By late 1964 Coleman had departed and, after Sam Rivers filled in for a European tour, Wayne Shorter was the new tenor. During 1965-68 Miles Davis' second classic quintet bridged the gap between hard bop and free jazz, playing inside/outside music that was quite unique. Although at the time the quintet was overshadowed by the avant-garde players, in the 1980s the music of this group would finally become very influential, particularly on Wynton and Branford Marsalis.
During 1968-69 Miles Davis' music continued to change. He persuaded Hancock to use electric keyboards, Shorter started doubling on soprano, the influence of rock began to be felt and, after the rhythm section changed (to Chick Corea, Dave Holland and Jack DeJohnette), Davis headed one of the earliest fusion bands. Rock and funk rhythms combined with jazz improvisations to form a new hybrid music and Miles' recordings of In a Silent Way and Bitches Brew (both of which used additional instruments) essentially launched the fusion era.
Many of Miles Davis' fans essentially write off his post-1968 music, not realizing that not all of the recordings sound the same and that some were more successful than others. If Miles Davis had sold out so as to gain a larger audience, than why did he record so many 20-minute jams that could not possibly be played on the radio? During 1970-75 the ensembles of his group (which sometimes utilized two or three guitars and a couple of keyboardists) became quite dense, the rhythms were often intense and Davis unfortunately often used electronics that distorted the sound of his horn. Actually the only album from this era that is a complete failure is On the Corner (Davis is largely absent from that fiasco) and Live/Evil, Jack Johnson and 1975's Panagea all have memorable sections.
And then suddenly in 1975 Miles Davis retired. He was in bad health and, as he frankly discusses in his autobiography Miles, very much into recreational drugs. The jazz world speculated about what would happen if and when he returned. In 1981 Davis came back with a new band that was similar to his '70s group except that the ensembles were quite a bit sparser. The rock influence was soon replaced by funk and pop elements and, as he became stronger, Miles Davis' trumpet playing proved to still be in excellent form. He toured constantly during his last decade and his personality seemed to have mellowed a bit. Where once he had been quite forbidding and reluctant to be friendly to nonmusicians, Davis was at times eager to grant interviews and talk about his past. Although he had never looked back musically, in the summer of 1991 he shocked everyone by letting Quincy Jones talk him into performing Gil Evans arrangements from the past at the Montreux Jazz Festival. Even if he had Wallace Roney and Kenny Garrett take some of the solos, Davis was in stronger-than-expected form playing the old classics. And then two months later he passed away at the age of 65.
There are currently over 120 valuable Miles Davis recordings in print including many live sets issued on European labels. Taken as a whole, these form quite a legacy.

Search
Artists
Styles
Biographies
Home

Order
My Account
Shipping Info

Live Radio
Free E-Mail
MP3
DVD
Movies

Hot Picks
TLC
Moby
N'Sync
Dr. Dre
Eiffel 65
Faith Hill
Kid Rock
Santana
D'Angelo
The Cure
No Doubt
Macy Gray
Dixie Chicks
Marc Anthony
Savage Garden
Christina Aguilera